One of my go to restaurants is Haru Ichiban located in the city of Duluth and has been over the last decade. I would actually say it is my most visited Japanese restaurant! It's not hard to see why, there's so many delicious options – so in this post I'll introduce some of my favorites!
Lunch vs. Dinner
My preference is actually visiting Haru Ichiban during lunch time because of the delicious lunch menu at a great value. Mostly everything also comes with a Ginger Salad and a Miso Soup. The exceptions are the Appetizers, Noodle Soups (how much soup do you wanted, after all), sushi from the sushi menu.
Of course if you are visiting during dinner time, almost everything you can find in the lunch menu is also on the dinner menu, but the quantity may vary and it may be extra for the ginger salad.
There's been so many favorites to order at Haru Ichiban that I've discovered over the years. Here's what I recommend!
Raw Fish
This is a great place to go for Sushi and Sashimi because almost every time I've gone there the fish has been very fresh. Also, Haru Ichiban does not skimp on the size of the fish slices!
Sushi and Sashimi Combination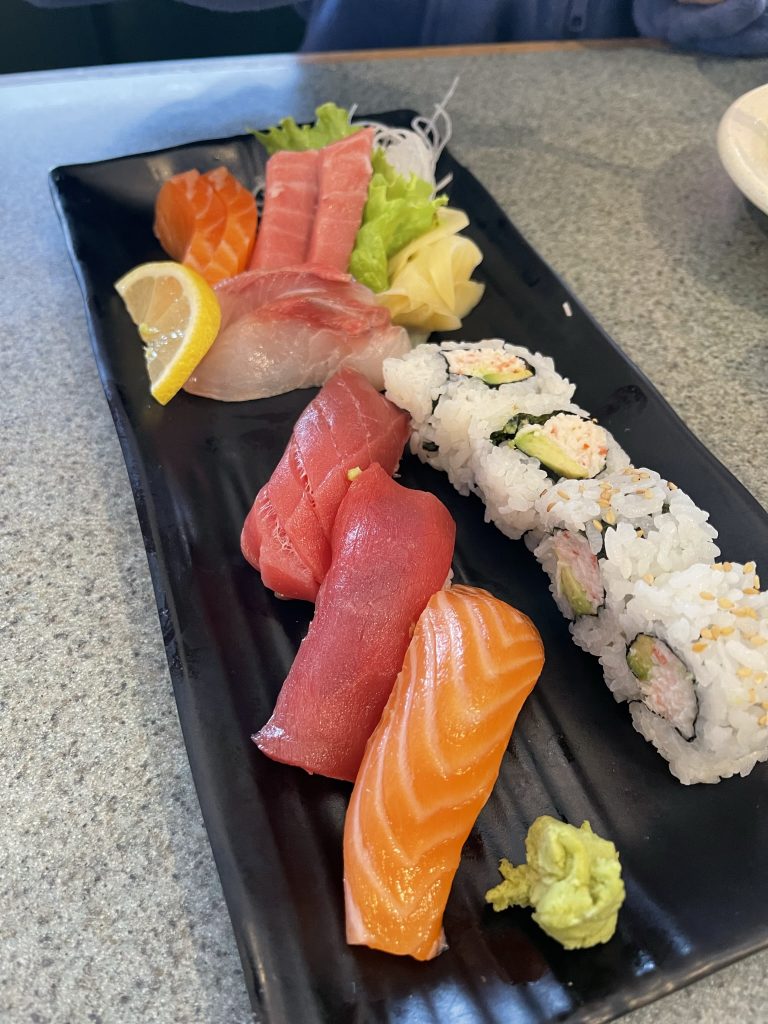 My mom's go to – This one is a good one if you are looking for a simple mix of sashimi and sushi. It contains 3 pieces of nigiri, 3 kinds of sashimi (2 of each), and 1/2 roll of california roll (4 pieces).
Special Salmon Combination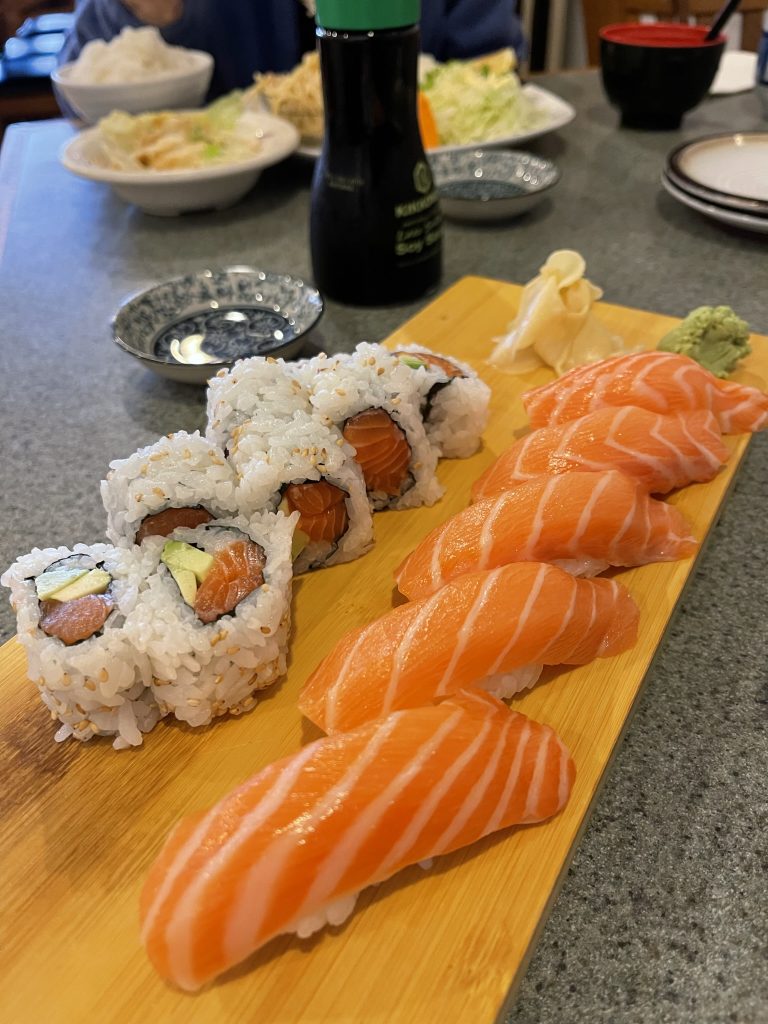 This was probably my first favorite thing to order here – mostly because salmon is my favorite fish for sushi and sashimi. The only issue with this dish I have… is there's SO MUCH food.
It has 5 Salmon nigiri, and a whole Salmon avocado roll (8 pieces of sushi), and as mentioned before, the size of the fish slices are not small – so it fills me up 100% (probably more like 115%).
Sunset Roll
If you like spicy tuna, salmon, and the flavors of sweet and a little sour, you will love the sunset roll!
The sunset roll has Spicy tuna, asparagus tempura, avocado on the inside, and salmon, albacore tuna, and a thinly sliced lemon on the outside. It's also served in ponzu sauce – tasty!
Oishi Roll
If you don't like lemons or anything sour, go for the Oishi Roll – This roll has spicy tuna, avocado, crab on the inside, and on the outside there's albacore tuna, salmon, scallion, sesame seeds and eel sauce!
Sashimi Lunch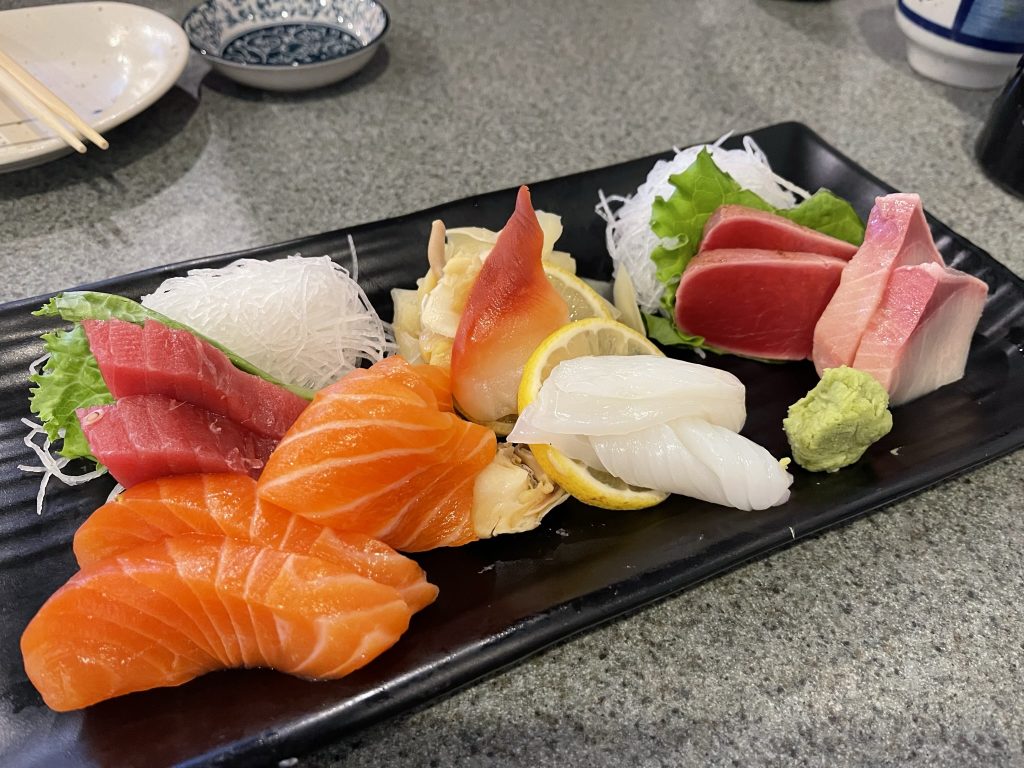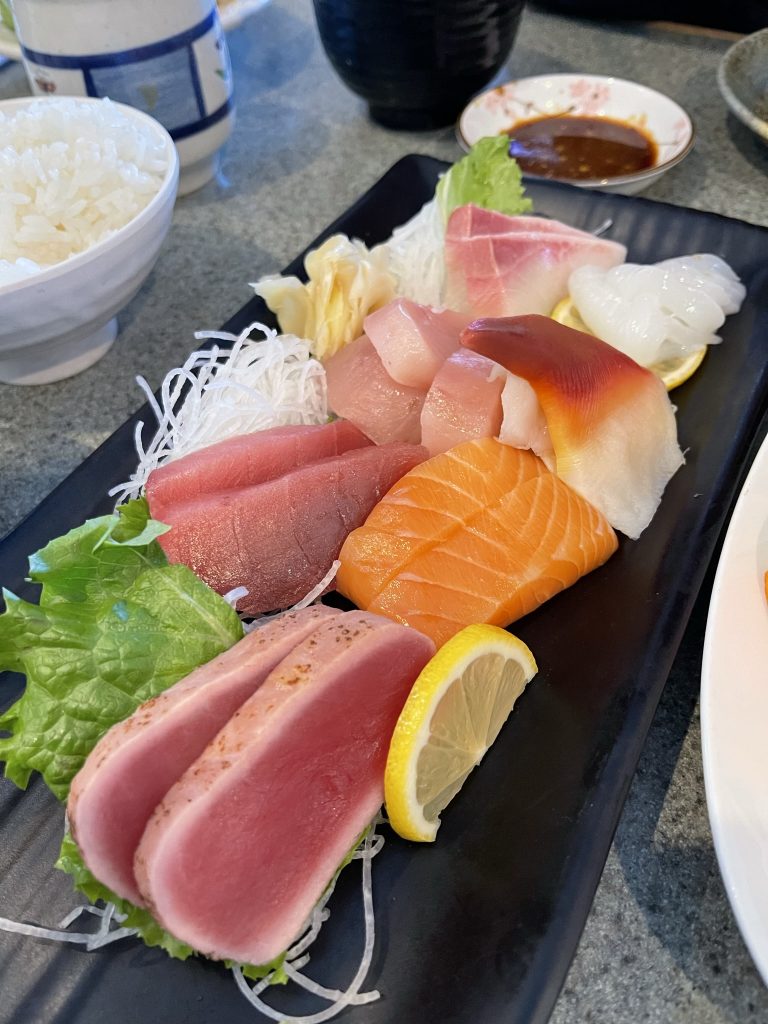 As you would expected the Sashimi lunch… is only available on the lunch menu. What a deal! 7 kinds of chef's choice sashimi, two each. It comes with a bowl of rice too – but I never even get to it when I order this one.
It is chef's choice so it can vary every time you go but I've pretty much never been unsatisfied! You can make some requests too but if you do there could be an upcharge (which is totally understandable).
Cooked Seafood
If you don't like raw seafood, or are just not feeling up to it, no worries! There's actually plenty of cooked dishes to order too – Here's two of my favorite cooked fish to order.
Grilled Mackerel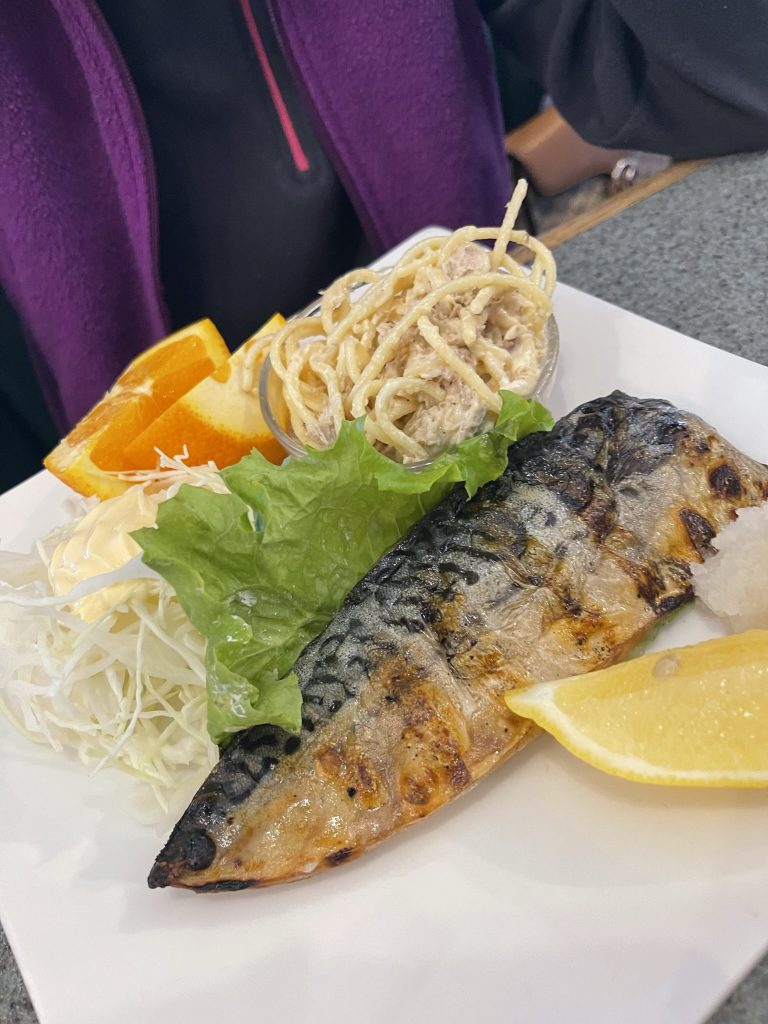 When I'm not feeling up for sushi or sashimi, this is my go to! The grilled mackerel is so tasty here, it is lightly salted and grilled and comes with a wedge of lemon if you prefer to squeeze some juice on there.
You can get it by itself on a plate, which comes with some tuna pasta and Daikon oroshi (grated white radish), or you can order it as part of the combination (then you can choose something else delicious as the other 'half' of the combo).
Grilled Salmon / Salmon Teriyaki
If mackerel is not your thing, the salmon is also a good cooked fish option. There's two ways it can be prepared for you to order! Grilled Salmon is similar to Grilled Mackerel. The other is Salmon Teriyaki if you want to add more flavor to it.
Tako Yaki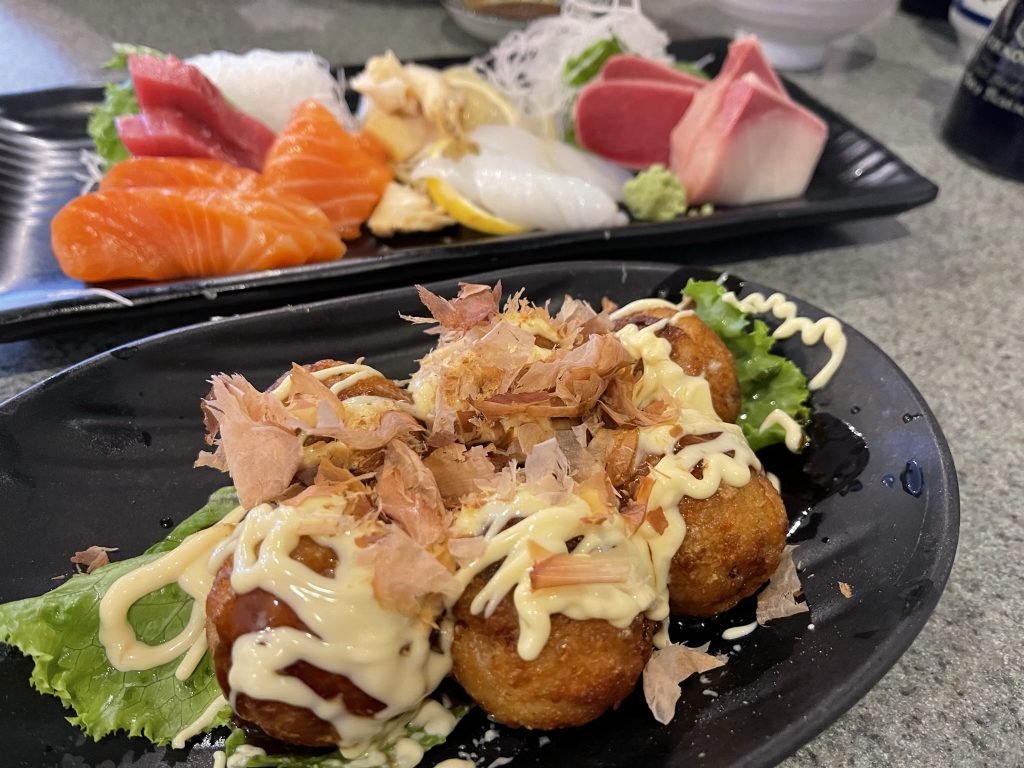 One of my favorite appetizers ever is Takoyaki! This dish is also known as 'octopus balls' (Doesn't sound super appetizing… but think of it as meatballs except with octopus) – it is a ball made with wheat flour based batter and minced or diced octopus.
At Haru Ichiban, it is topped with fish flakes, mayo, and also a tonkatsu sauce.
Not in the mood for seafood?
No worries at all! A lot of the times I visit Haru Ichiban, I don't even order seafood! This place just has so many options!
Beef Teriyaki / Wafu Steak
The beef dishes are very tender and the Beef Teriyaki is our go to. You can order this as the Beef Teriyaki plate or you can order it as part of the Combination platter.
There is also another version of the beef which is the Wafu steak which is also delicious too if you aren't feeling you're in the mood for teriyaki.
Udon
Everyone loves Ramen but I actually prefer Udon a lot of the times! Both are good though, but there are definitely differences. If you are looking for Udon Noodles I got 3 recommendations for you.
The first is the Duck Udon. This is a simple noodle dish with udon noodles with duck breats and sprinkled with scallions. I do love me some duck meat, so that is one reason I like this dish. The other reason? The broth – it is a clear broth that is so tasty!
The second Udon I like to order is the Nabeyaki Udon. It is cooked in a cast iron pot, and served with shrimp tempura, fried tofu, fishcake, spinach, mushrooms, an egg, and scallions.
Sukiyaki Udon is the third one I recommend. This one is very tasty but it is only on the dinner menu. It's basically a Hot Pot with Sukiyaki beef, mushroom, egg & scallion.
Chicken Karaage
If you've never had Chicken Karaage before, it's basically delicious Japanese fried chicken nuggets! One of the things I love about ordering this at Haru Ichiban is they give you a giant amount of it!
There's two ways you can order this form the menu. You can order this as the Chicken Karaage Plate itself, or you can order it as the Chicken Karaage Ramen. The ramen version is so much food – and I am always way too full when I order this but so worth it!
Beef Hamburg
So this one is going to be super weird to you if you didn't know that Hamburger meat is totally a popular dish in Japanese cuisine. It also might be perfect for any body that got 'dragged' to a Japanese restaurant but was totally not in the mood for it!
The Beef Hamburg is basically a grilled chopped steak patty with an egg on top, served with a demi glaze – and it also comes with tuna salad and lots of fries. Definitely filling, and definitely delicious too.
---
For more information on Haru Ichiban check out the following links:
So what do you think? Have you been to Haru Ichiban? And if so what's your favorite dish there?
Also if you're looking for more ideas on where to go to eat in Duluth, check out Yes Formosa in Jusgo – you can also stop by and get some delicious Asian groceries to cook at home!