Sushi Nami is a Japanese restaurant and there are actually 3 of them in town (Atlanta) – Alpharetta, Suwanee, and Sandy Springs. The one I am writing about today is the Sandy Springs location, though the menu is similar if not the same.
There are actually several types of food I like to get at Sushi Nami:
Sushi and Sashimi
Bento Boxes
Noodles
Not to say they have a bunch of other sections such as donburi, fried rice, cold noodles, small plates, teriyaki plates, and even a section called "I don't like raw stuff" which has things like tempura lunch, fish and chips, tonkatsu and more!
However, I'm going to write about my favorite dishes – sushi/sashimi, bento boxes, and noodles.
Sushi and Sashimi
There are actually two different sections of Sushi and Sashimi, as there's the platters and also there is the sushi rolls you can order.
Sushi rolls wise, there are so many options – and the fish is fresh and delicious. Some of the dishes I recommend:
12 & 69 Degrees – Tuna, salmon, masago, cucumbers, Top: salmon, avocado, spicy mayo
Big O – Spicy Tuna, Crunch, Top: Fresh Tuna
Jalapeno Lobster – Fresh teamed maine lobster, lemon, mayo, curnch, jalapeno, cream cheese
The River – Top: seared wagyu, scallion, truffle oil, inside: shrimp tempura, spicy seared albacore.
Tommy Sunset – shrimp, cucumbers, topped with fresh salmon, thinly sliced lemon
Up the stream – fresh salmon, avocado, cucumbers, crunch, cream cheese, eel sauce
Wicked Tuna – Spicy Tuna, crunch, jalapeno, Top : flounder, jalapeno yuzu, soy paper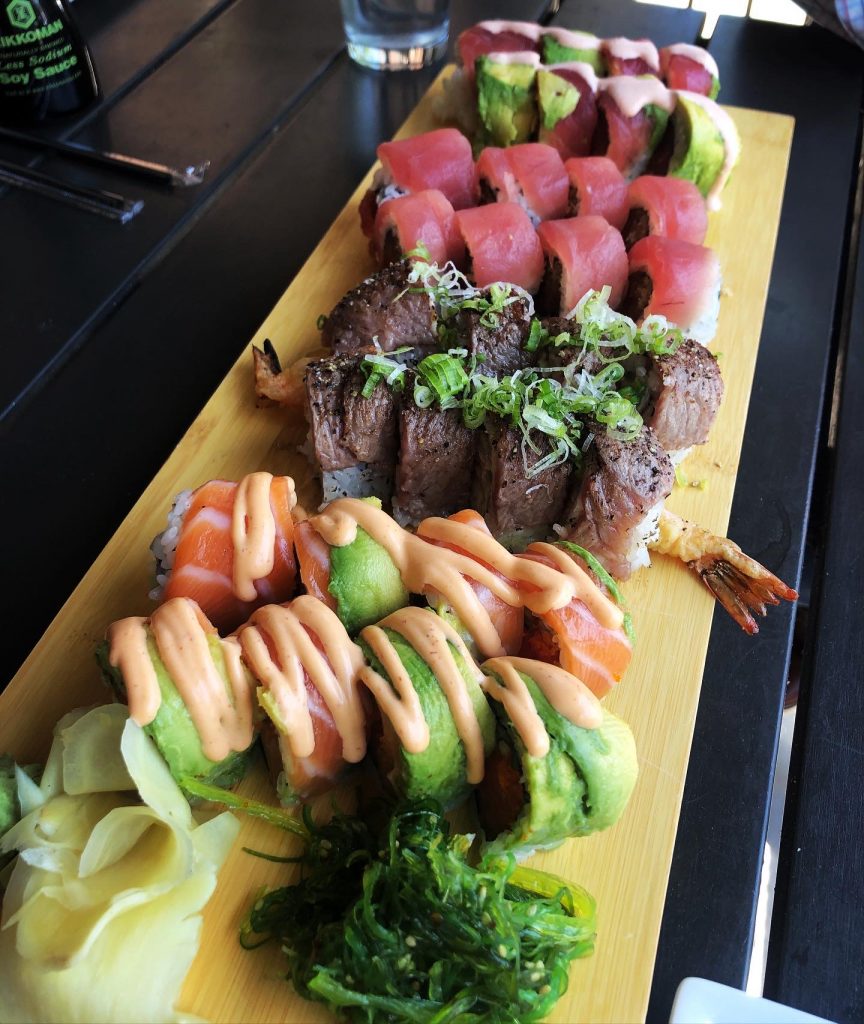 I love these sushi rolls when I go with other folks that enjoy sushi, however that's not always the case, so if I'm just ordering for myself to eat – I like to go for the Sushi and Sashimi plate! The sushi and sashimi platter features 5 nigiri sushi, 5 sashimi slices, and a tuna roll: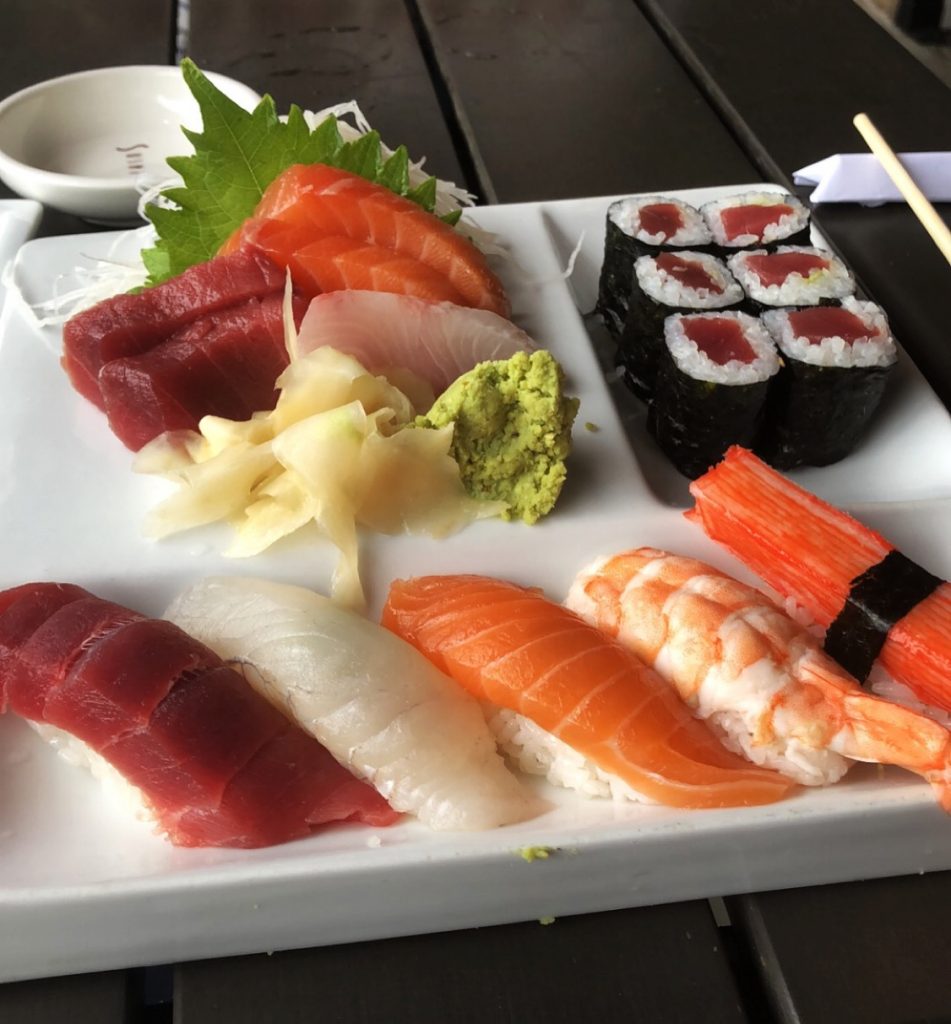 Noodles
For noodles, there's also two separate sections! There's one section that is hot noodles – either noodle soups or 'dry noodles' (ex – stir fried), and then there is a cold noodle section. If you're not familiar, that is a common way to have noodles in Japan.
My go to? The Nabeyaki Udon, which is a noodle soup – Dashi hot broth, Tempura shrimp, chicken, fish cake, vegetables, and optionally an egg – which I ALWAYS ask for tho it is extra.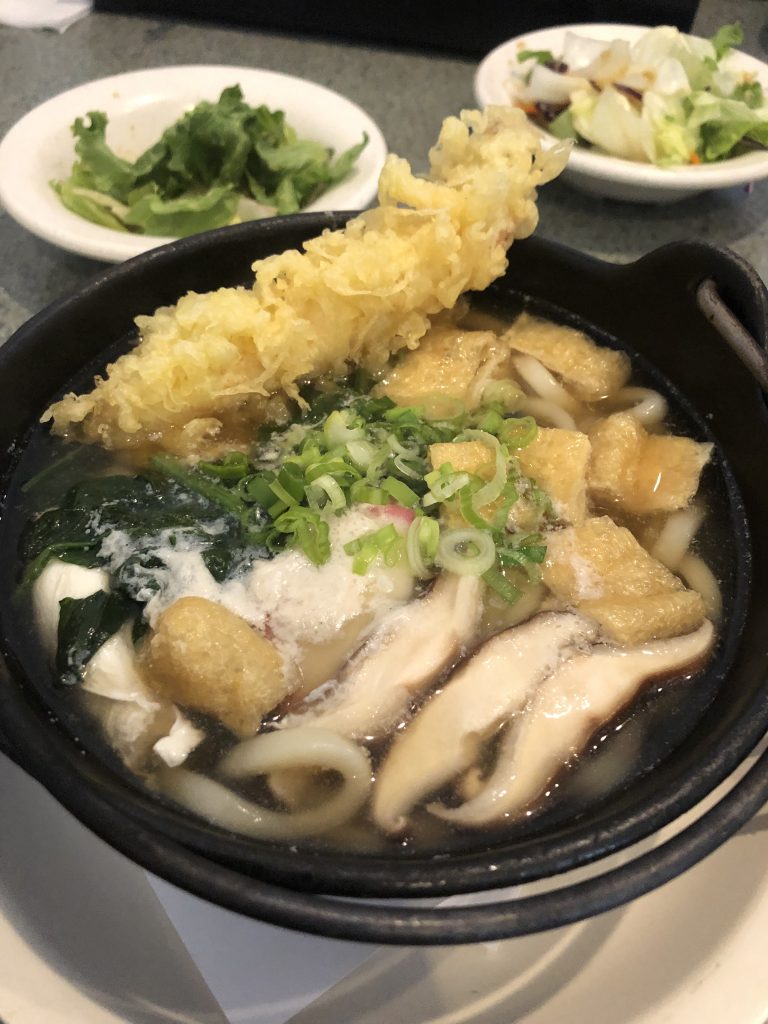 This dish is so perfect when it's cold out and you want to slurp on some hot noodle soup!
Bento Box
Last but definitely not least – I definitely order these a lot, but beware there is SO much food, it's the bento boxes!
There's four bento boxes to choose from – chicken, beef, salmon and shrimp. They all come with edamame, 2 gyoza, shrimp and veggie tempura, 4 pcs california roll, and steamed rice. Also comes with your choice of miso soup or ginger salad. Both are good but I'm picky about my ginger salads, as in I like it real ginger-y and not cream based, and that's what it is.
Funnily – my favorite is the Salmon bento box… BUT I can't seem to find a picture of it – probably because I end up just eating it the second I get it LOL – but here's an idea of what the bento boxes look like below: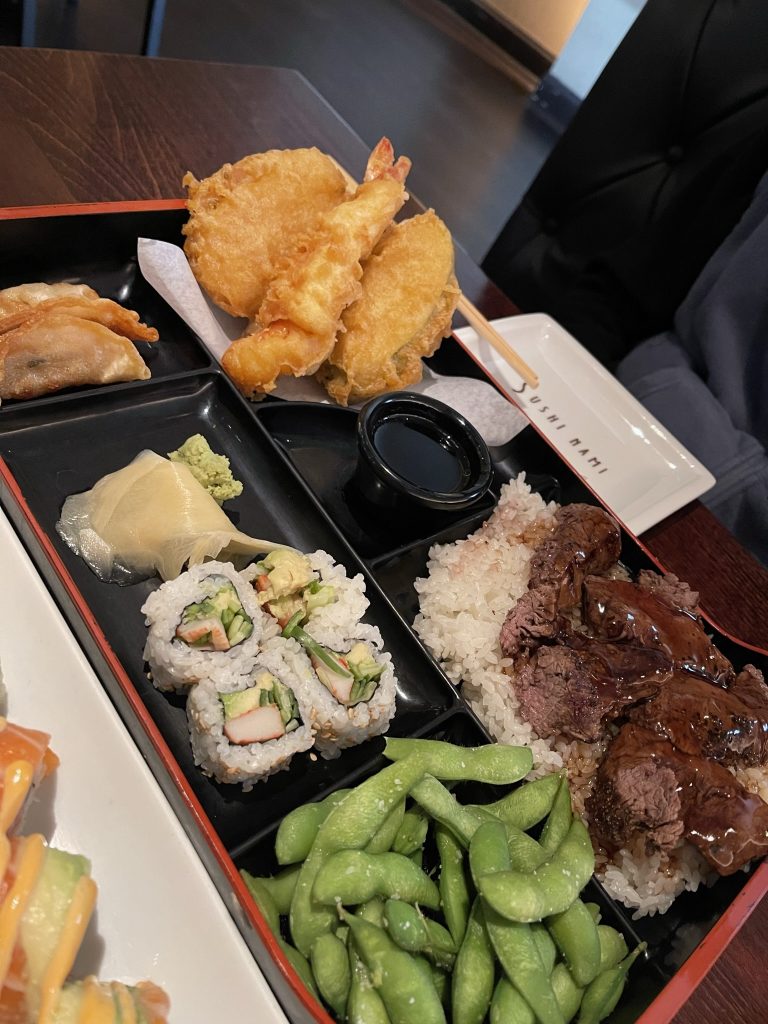 If you want to learn more about Sushi Nami – check out these links:
Sushi Nami Too (Sandy Springs) Yelp
Sushi Nami Too (Alpharetta) Yelp
Pin for later!