Have you ever had Poke Bowls before? I discovered them a couple years ago and they have been one of my favorite meals to have for lunch ever since. Poke bowls are awesome because they are super customizable to any diet! That's why I am a fan of Sweet Tuna Poke Bowl Restaurant.
There used to be a Sweet Tuna in Sandy Springs, but sadly I have to announce that they are now closed. However, there is one in Alpharetta! So if you're in the area be sure to check it out.
Poke
First things first, for those of you unfamiliar, and are wondering about what is Poke:
Poke is basically diced raw fish served that can be served as an appetizer or main course. It originates from Hawaii, and is actually pronounced 'poh-keh' bowls.
The word 'poke' means to 'slice or cut' in Hawaiian. It's in reference to the chopped up chunks of raw fish (ex: tuna or salmon) that is traditionally in the dish/bowl.
Poke Bowl
Poke Bowls, which has become a popular dish, was originally serviced with diced tuna on top of rice and comes with veggies and sauces. However, now there are plenty of 'make your own bowl' poke bowl places that let you pick what you want to go in, such as steak, chicken, tofu, etc. So, as mentioned, super customizable.
Sweet Tuna Poke Bowl
One of the things I super love about Sweet Tuna is that the ingredients are always fresh. I mean… I don't trust every restaurant / gas station with raw fish. (Ok, I actually don't trust ANY gas station with raw fish…)
Another thing I love about Sweet Tuna is that it's fast. Unless you go during rush hour, then the line can be pretty long. However, even then your food is ready when you pay – so you can shove it in your face whenever after that.
My only complaint? I've been eating at Sweet Tuna for over a year now. It was 100% perfect. Recently, new management has taken over, and the portions are incredibly depressing. I often times leave hungry with a medium now, where as before I could eat a small and be perfectly fine for hours. It has gotten so ridiculous that I almost don't want to go back, which is sad because a LOT of my coworkers and I love going there.
By the way I just have TOO many pictures of my poke bowls from here… so I made a gallery: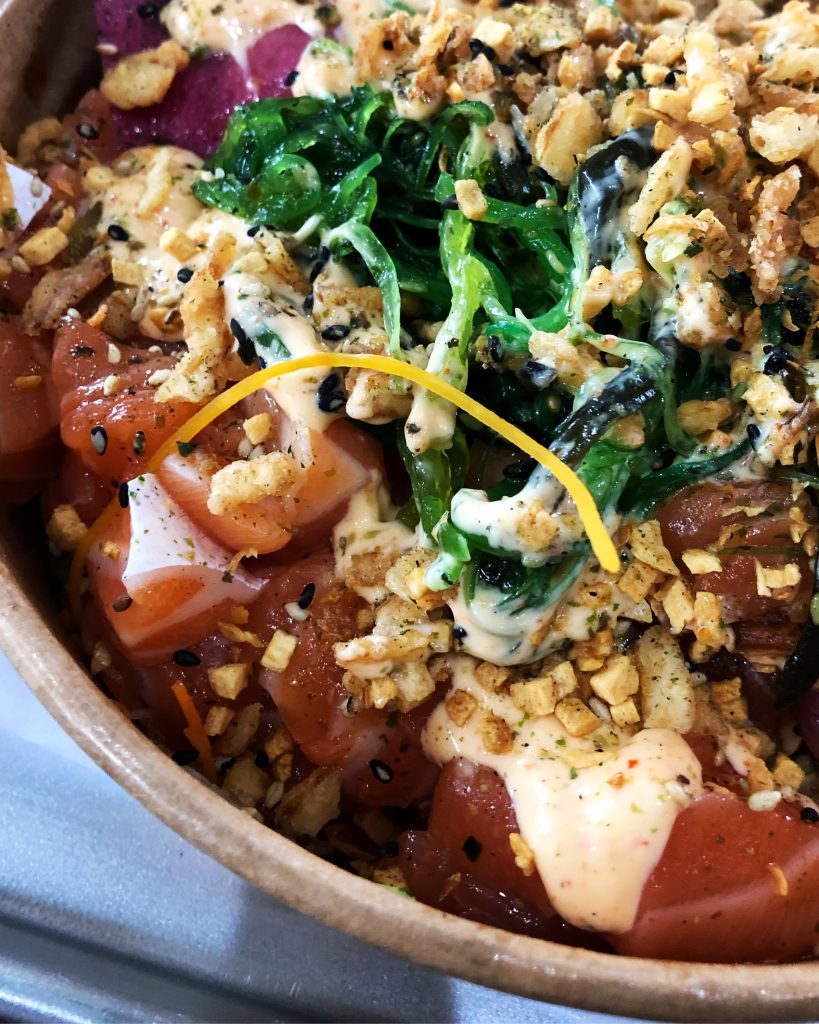 Looking for ideas on what to make? Here's one of my go to bowls:
Base:

Cauliflower Rice
Veggie Noodles

Protein:
Mix In's:

Bell Peppers
Cucumbers
Bean Sprouts
Green Onions

Add On's:
Sauce:
Crunch:

Nori Flakes
Furikake
Onion Chips
Do you hate raw stuff? NO PROBLEM! Here's another version I do when I'm not particular in the mood for raw:
Base:
Protein:
Mix In's:

Bell Peppers
Cucumbers
Edamame
Green Onions

Add On's:
Sauce:
Crunch:

Nori Flakes
Furikake
Onion Chips
These are probably most common go to's but there are so many options… brown rice, kale, chicken, crab and shrimp, tofu, red onions, chick peas, beets, corn, pineapples, jalapenos, ginger, cream cheese, wasabi, just to name a few – the list goes on!
Check out their yelp page for more information!
Also – if you are stressing out about making your own bowls, sweet tuna poke bowl does have some signature bowls you can choose from so you don't have a decision making crisis 🙂