I don't eat a vegan diet, in fact, when I was little, someone once called me a 'carnivore' – however, these days I love meat and veggies, and most of all I love flavor! So I had to check out VeGreen Vegan Fusion Restaurant that I recently heard so much about.
VeGreen is a Vegan Chinese Asian restaurant in Duluth, Georgia. It's pretty popular because there's not that many vegan restaurants around in Duluth, and also they have both American Asian food, and they also actually have more authentic style Chinese dishes also.
Now, I tried a couple of different dishes, and I'll tell you what I recommend and what, well, I am skipping next time.
Recommendations
Here are three dishes I totally enjoy at Vegreen! And remember, I am not vegan, so that means these dishes are cooked with delicious flavor!
Hk Supreme Soy Sauce Ho Fun 港式豉油皇炒河粉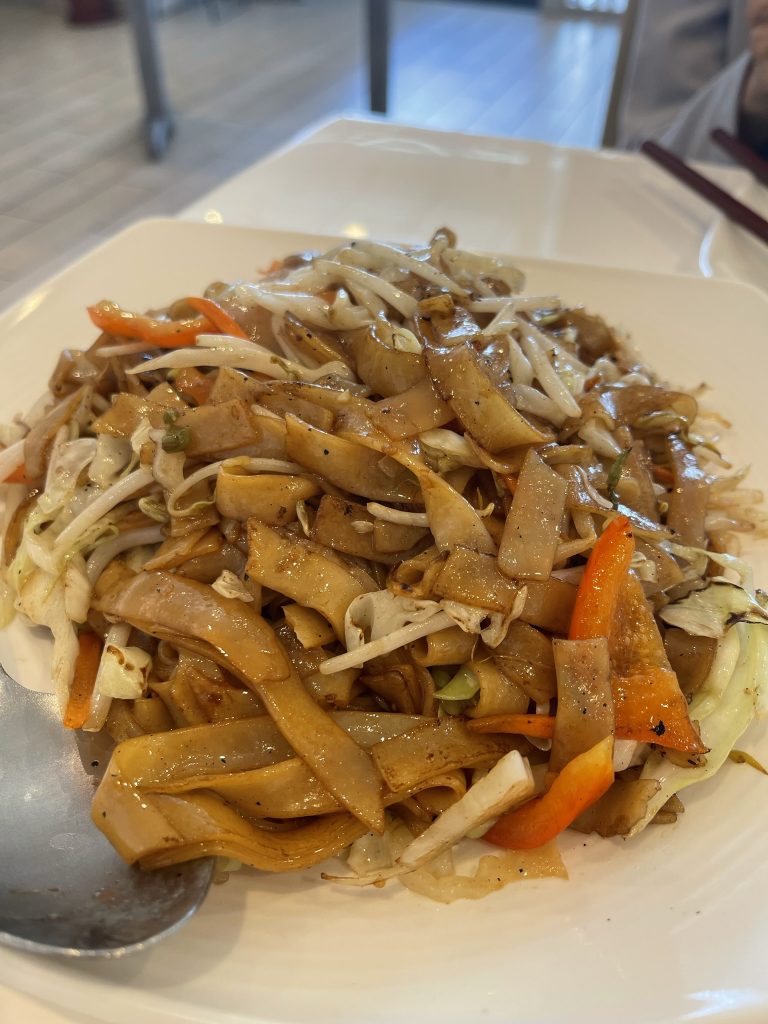 Have you ever had Cantonese fried noodles? They are delicious! That is what this is (the HK = Hong Kong) it's Hong Kong style chow fun or ho fun which is wide flat noodles made out of rice flour.
I love it because it's not too salty and the flavors are good – they make it with seitan instead of beef (normally it's cooked with beef), making it vegetarian and vegan but I actually quite like the texture and taste of the seitan with the noodles, so I am a fan!
Yam & Eggplant Clay Pot 三杯淮山茄子煲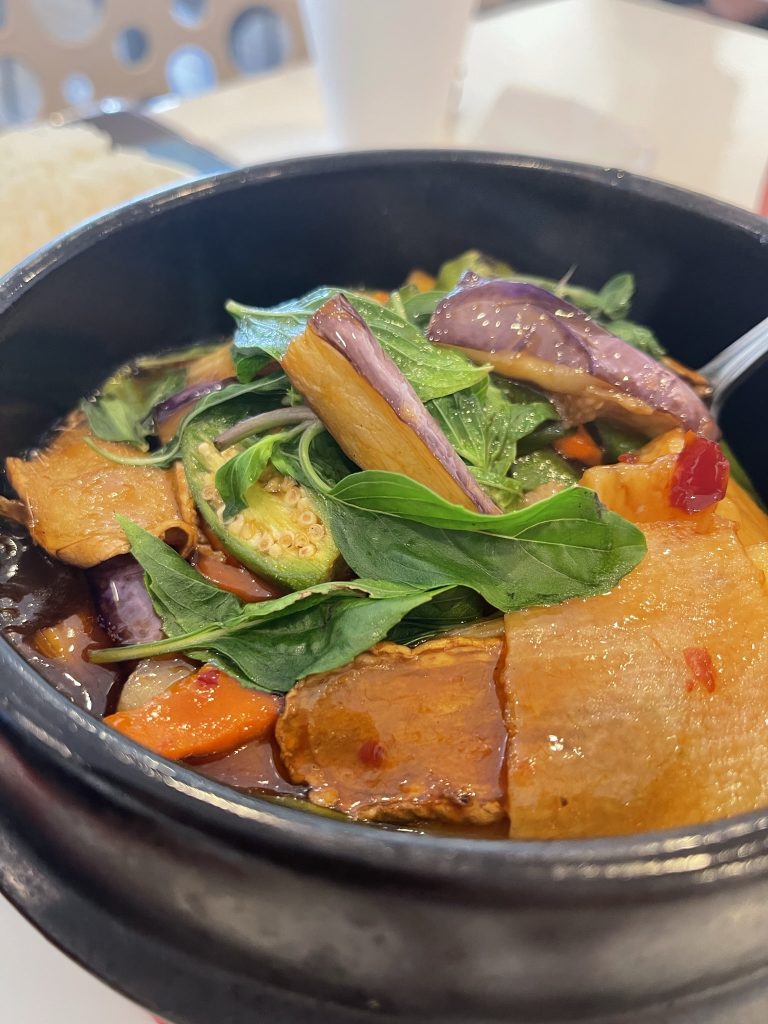 The word yam will make you think of something that looks like sweet potatoes – but that's not what they mean by Yam. Actually to be honest, VeGreen is not good at translating or naming their English names on the menu. This is a type of Chinese yam – it's white colored, taste more like… normal white potatoes with a kind of slimy texture (similar to okra). You wont' be able to tell that though, because it's cooked with okra and eggplants and the sauce is thick and delicious.
If I could rename this dish it would called Three Cup Chinese Yam and Eggplant Claypot. Because it is the flavors of Three Cup sauce (Taiwanese Three Cup Chicken) but with a bunch of delicious veggies.
King Oyster Hot Pot 三杯杏花菇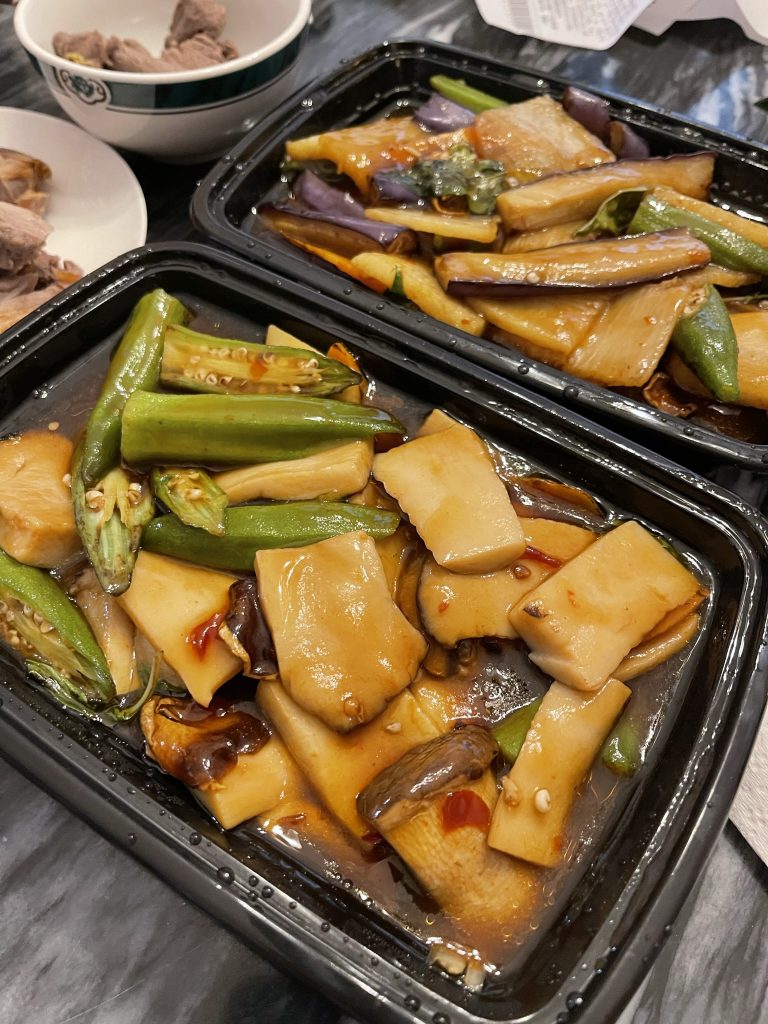 Funny store – once I ordered the Yam & Eggplant Clay Pot and this King Oyster Hot Pot delivered to my house. And then I was like wait, these two things taste exactly the same.
And then I looked up the Chinese names on their menu and realized both of them are called in Chinese Three Cup flavor – so yes, this is the same dish as the other one, except with King Oyster Mushrooms and it also has okra and other veggies!
No wonder this dish was tasty and I also liked it!
Skipping Next Time…
Not saying this were bad or anything, but they were definitely not up my alley and I was not a fan. I'll explain why.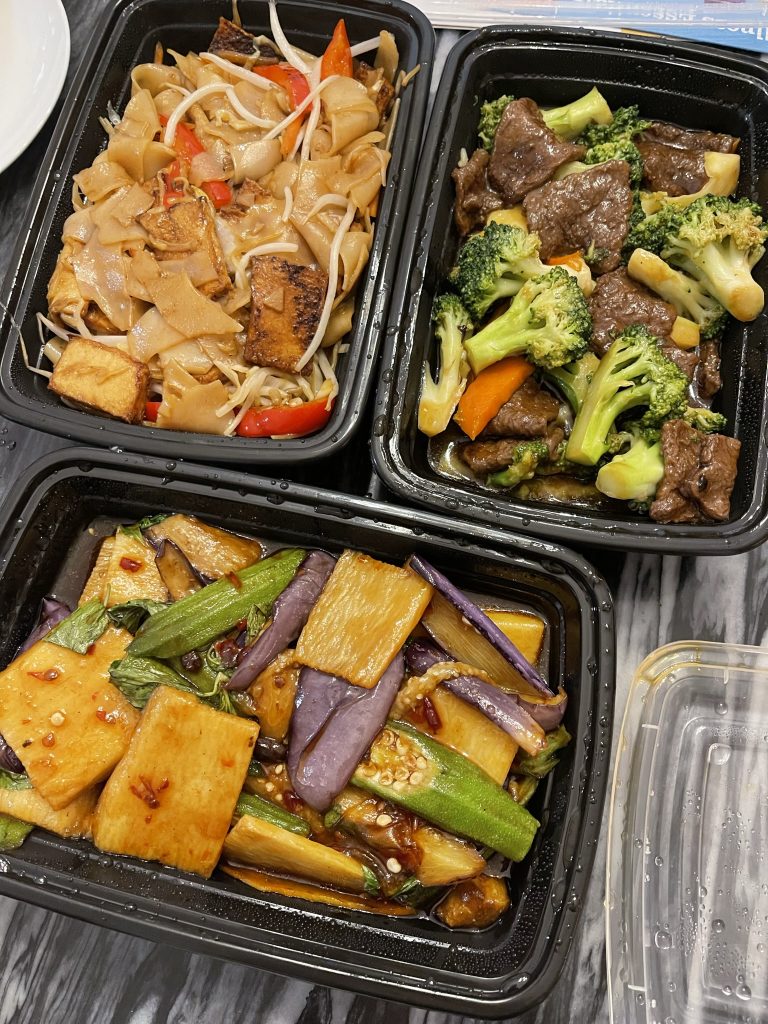 Beef Broccoli 西兰牛
There is a whole section of the menu made with mock meat. The beef broccoli is made with the mock beef, and if you are expecting anything that taste slightly like meat, don't get this. You MAY like it though if you've never had beef in your life before.
The sauce was also just fine. Not terrible, but nothing to write home about either.
Salted Fish Casserole 咸鱼鸡粒煲仔饭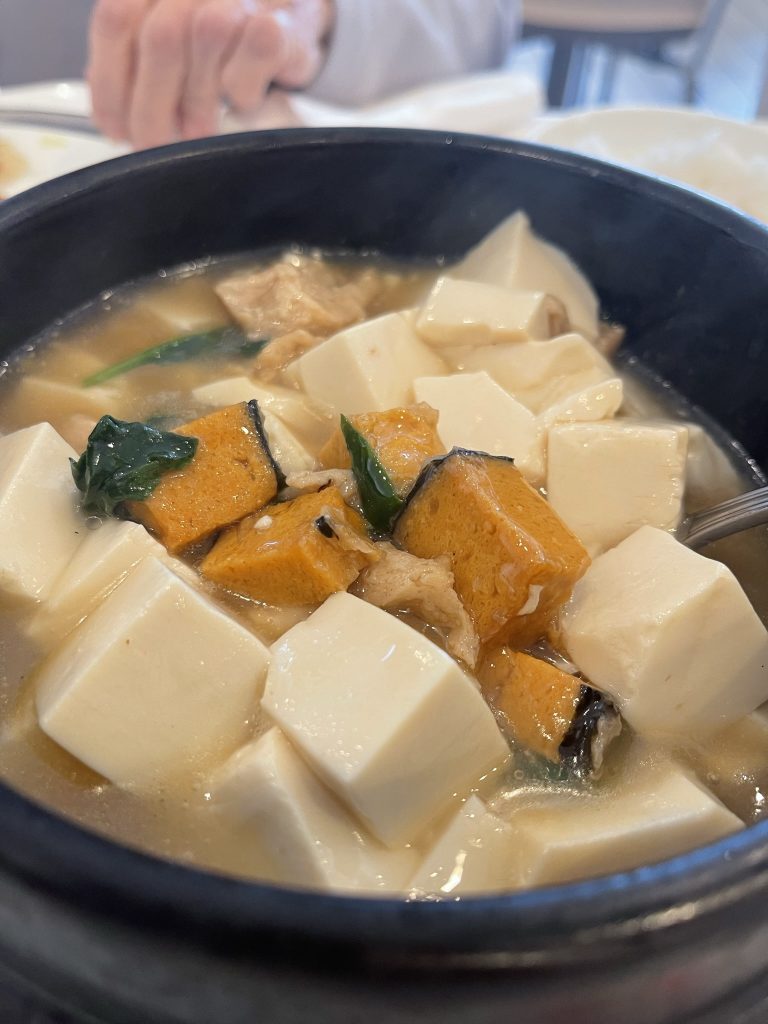 Man I really wish I liked this. You have to know that I love the real salted fish dish – it's normally called Salted fish diced chicken clay pot. However, this was…. so far from what it normally taste like it was so depressing. I guess what was I expecting? There's two meat / seafood in the original dish and neither of those ingredients were in it.
---
For more information on VeGreen – check out their website or yelp page! Their address is here too if you'd like to visit: 3780 Old Norcross Rd Ste 106 Duluth, GA 3009
If you're looking for more delicious food in the Duluth area, check out my recommendations here!
Pin for later!