Great Sichuan Chinese Restaurant is located in Johns Creek, Georgia. This might be my favorite place to get Sichuan food in Atlanta, everything I've had here is amazing. I wanted to point out a couple of my favorite dishes in this post – so be sure to check it out if you are planning to go there!
Sichuan food (or aka Szechuan food) is one of my favorite cuisines ever. My grandma on my mom's side is originally from Sichuan province, so my whole family loves eating Sichuan food.
If you've never had Sichuan before, and are a fan of spicy foods – I highly recommend you try it some time! If you're not a fan of spicy foods, there are a few things you can order there too, we always end up having to order a couple of non spicy dishes as my niece can't tolerate spice (shaming the family! just kidding, Jeannette 🙂 ).
Delicious Spicy Dishes
Here are some spicy dishes I recommend!
Steamed Chicken with Red Chili Sauce 口水鸡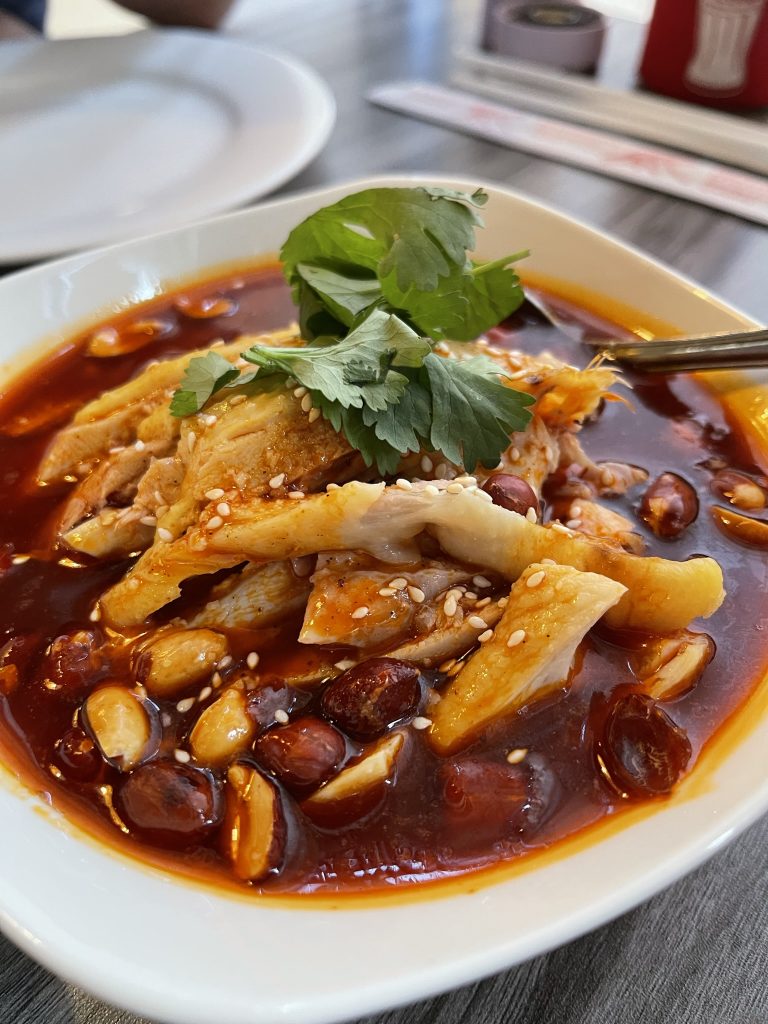 Steamed Chicken with Red Chili Sauce 口水鸡 is actually an appetizer dish – it's steamed chicken, served in this cold red chili sauce that is incredibly flavorful.
At Great Sichuan Chinese Restaurant they give you a ton of chicken too, so it's awesome!
By the way it's direct translation is literally… salivating chicken – because it's so tasty you salivate 😀
Hot & Numbing Combination 麻辣一锅端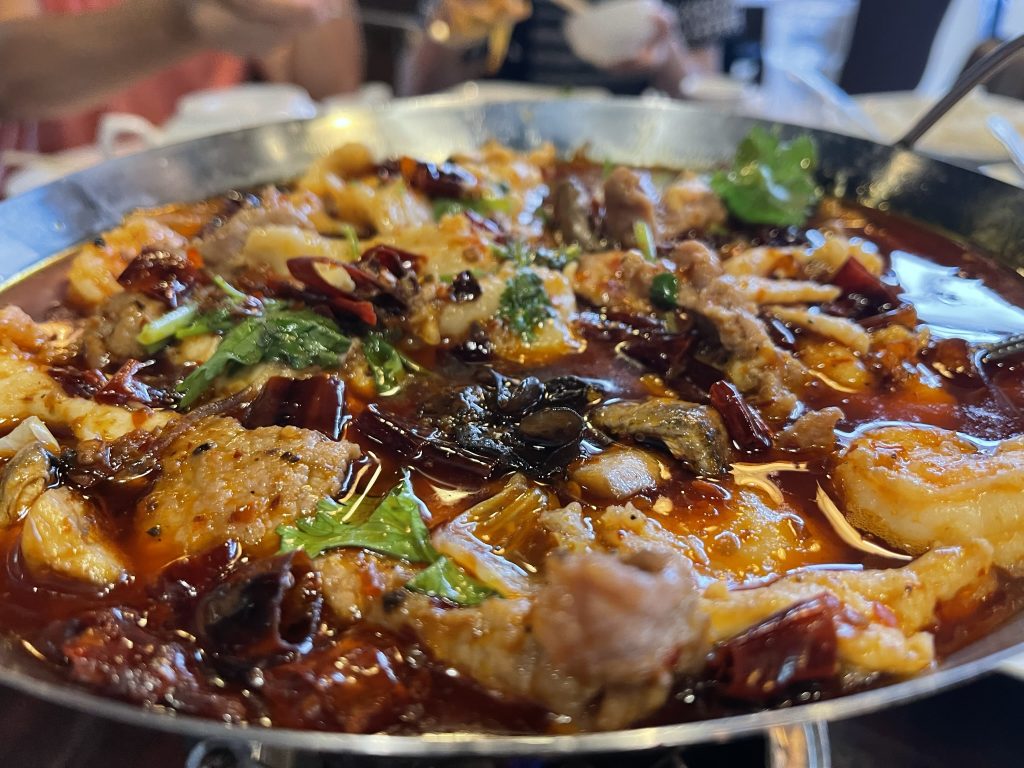 Hot and Numbing is a very famous and popular combo in Sichuan cuisine. Its also known as Mala because 'ma' means numbing and 'la' means spicy.
This dish at Great Sichuan has a combination of fish, shrimp, beet and chicken mixed with snow peas, mushrooms, black ear mushrooms, carrots and glass noodles in red spicy hot broth topped with cilantro, Sichuan peppercorns and chili peppers. The dish is served over clear noodles.
So delicious and I just love how much stuff is in this one pot of tasty food!
Braised Pork Blood & Pork Intestine w. Hot Spicy Chili 五更肠旺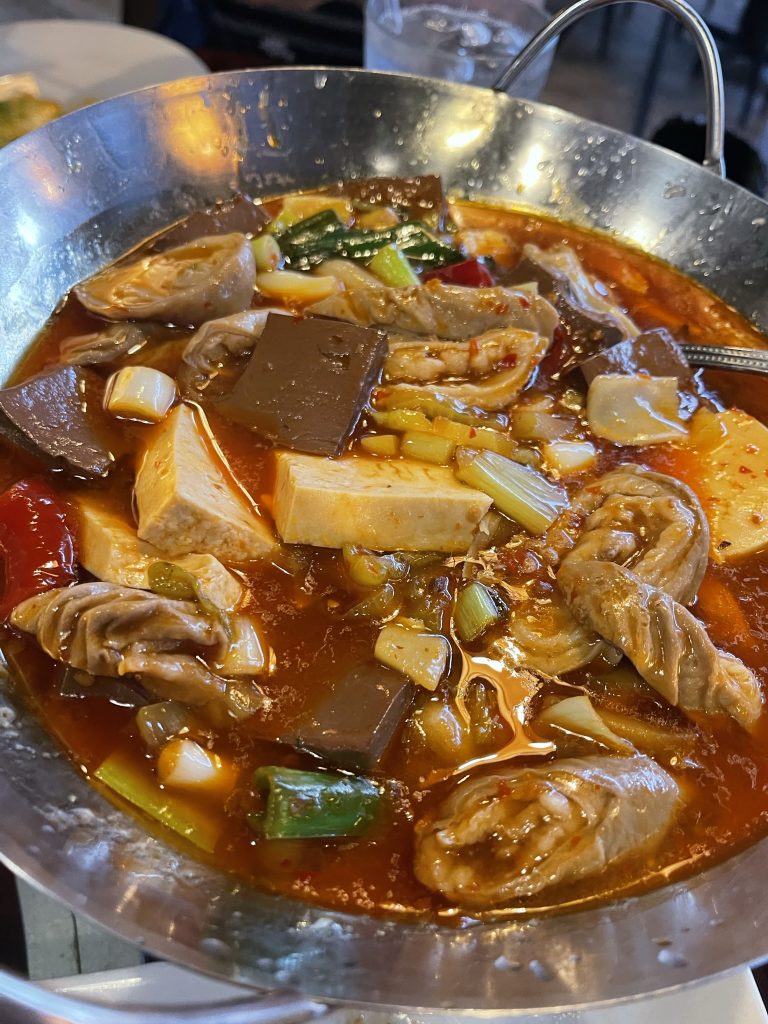 This is a very popular dish in Sichuan cuisine also, but if you are not a fan of offal (organ meats) or pork blood tofu, then you will want to skip this one.
But if you, like me, have acquired a taste for it – then you will LOVE this dish here at Great Sichuan Chinese Restaurant.
Green Pepper sliced Fish 青花椒沸腾鱼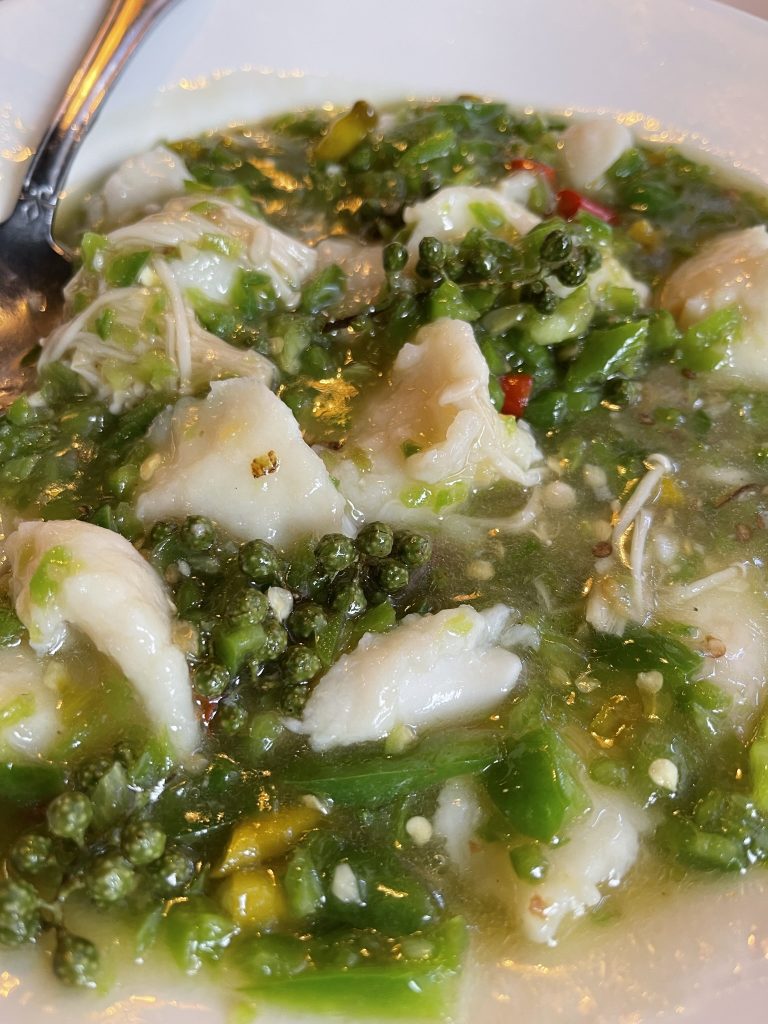 Ok… here's my FAVORITE dish of all times to get at Great Sichuan – be warned though, this dish is SPICY. This Green Pepper sliced Fish is covered with hot peppers, and green sichuan peppercorn – which gives it a spicy and numbing (or mala) flavor.
If you love spicy foods, then you will DEFINITELY want to try this dish.
Dry Pot Pork Intestine w. Chili 干锅肥肠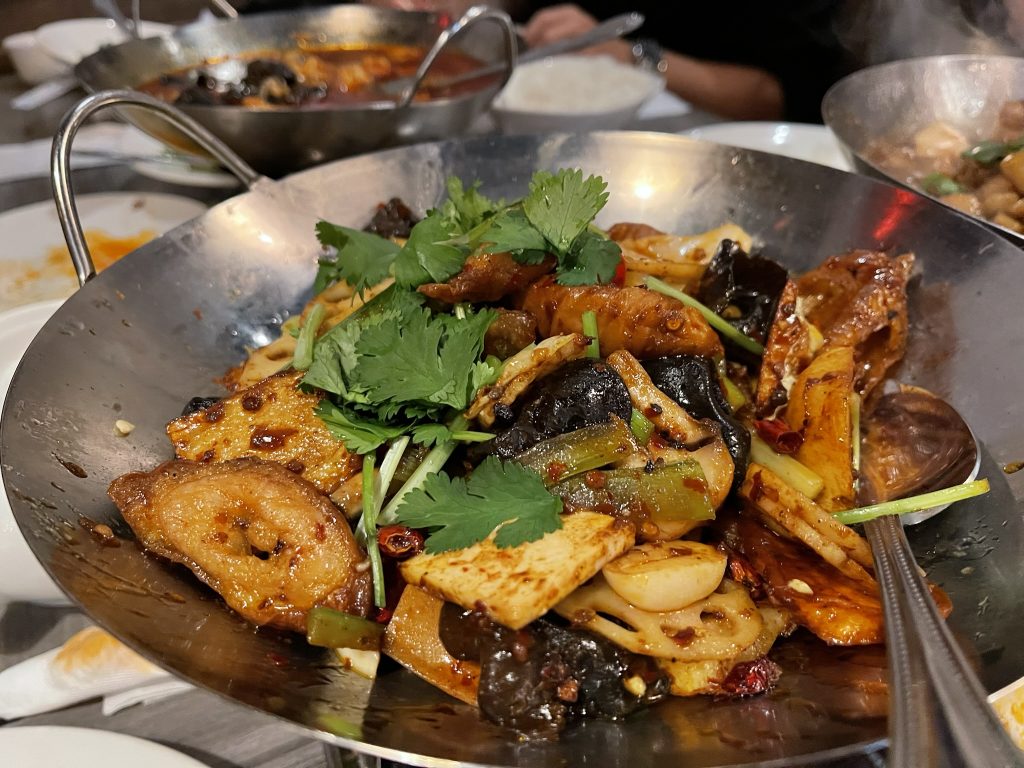 Another one of my favorites, but you will need to like offal / organ meats to want this. Dry pot pork intestines' with chili is stir fried so it's not saucy, it's lightly fried so it's also crunchy – so tasty!
None Spicy Options
If you're going with anyone that doesn't like spicy or if you just want some variety, here are some options for you in terms of not spicy foods.
Bamboo Shoots Flavored Dry Bean Curd 筍尖香干肉丝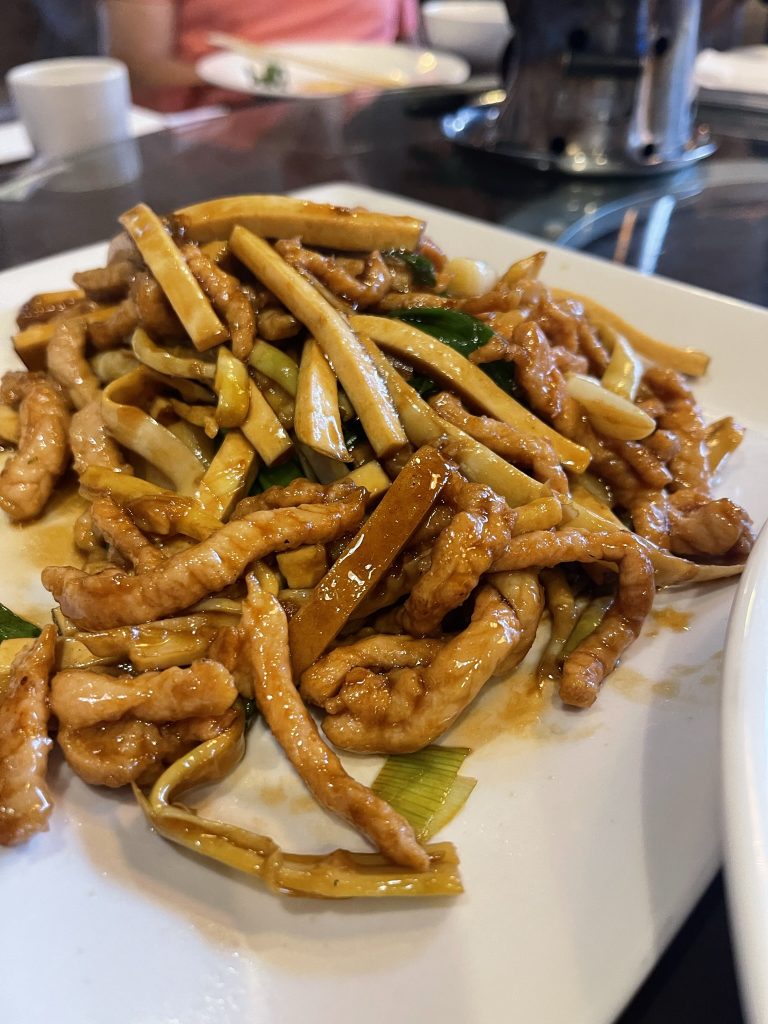 At Great Sichuan Chinese Restaurant, you can actually order the meat you would like to go with this – You can choose between Shredded Pork, Chicken or Beef. We usually go for shredded pork (the most common meat to go with this popular dish).
Tofu & Mixed Vegetables in Clay Pot 蔬菜豆腐煲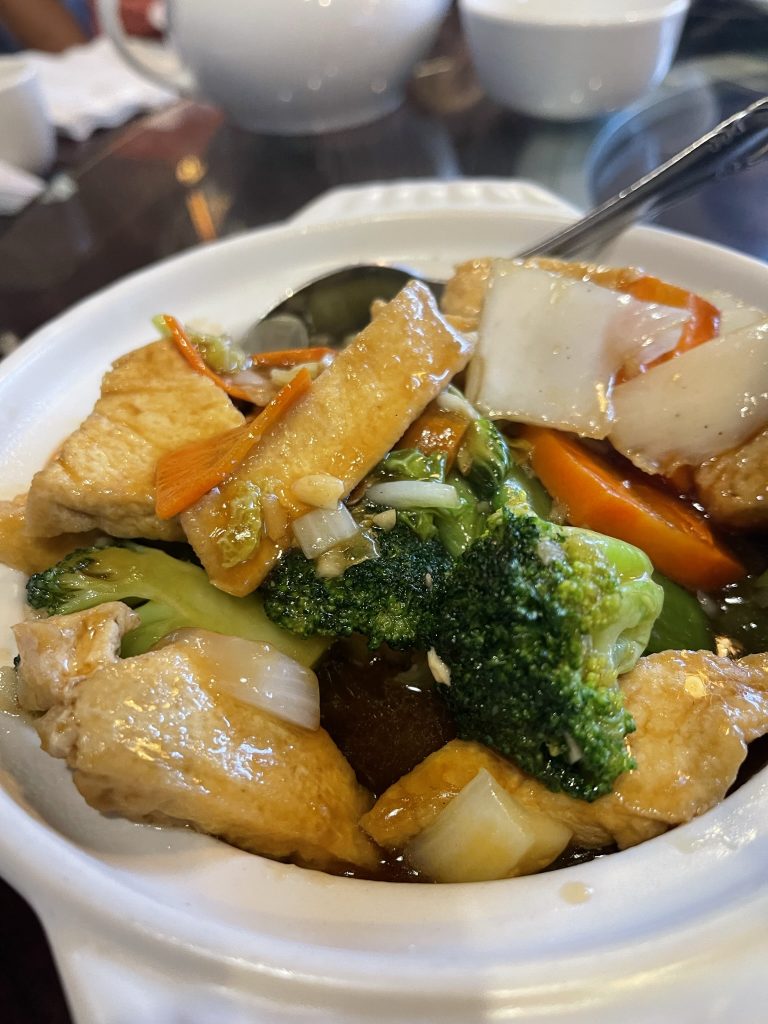 If you are craving some veggies, this Tofu and Mixed Veggies clay pot is the way to go. It's more bland than all the other super spicy dishes, but I like balance in my meals, so we've gotten this a couple of times.
---
If you're looking for more information about Great Sichuan Chinese Restaurant, check out their website here or their yelp page here. Their address is here if you would like to go check them out: 10475 Medlock Bridge Rd STE 116, Johns Creek, GA 30097.
If you're looking for more Sichuan restaurants check out Humble House at Great Wall Supermarket!
Happy Eating!
Pin for later!