Have you ever had Korean Japanese fusion? Delicious combo – and Yuki Izakaya is one restaurant in Duluth, Georgia you can visit to try it out! Here's what I like to get there.
I like this place because there's so many options, and it's great to go with a bunch of people. I recommend going to lunch because the lunch combinations – everything on the lunch menu comes with a bunch of stuff it seems.
Lunch Menu
First thing first, they have a lot of stuff on the menu (Full lunch menu is here) and I'm just mentioning some of the ones I have tried and liked.
Spicy Pork Don 제육덮밥 | Spicy pork over rice
Dons are basically Japanese rice bowls. They're usually filled with meat, veggies and rice. When I'm craving a good Don at Yuki Izakaya Korean Japanese Restaurant, this is probably my go to here.
The spicy marinated pork is delicious, and I've never once finished this whole bowl because it also comes with a massive around of rice and eggs, and as you can see from the image, many other side dishes!
There's potato salad, kimchi, cucumber, glass noodles, udon soup, and a salad.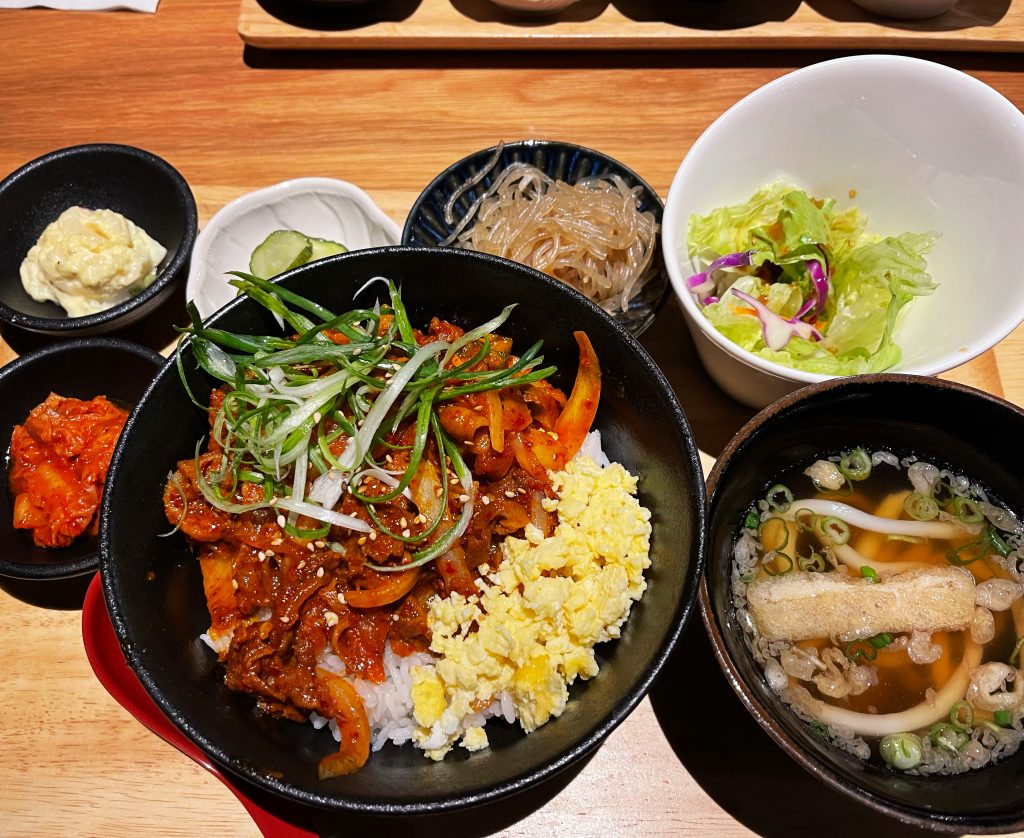 Bulgogi Don 불고기덮밥 | Marinated beef over rice
Bulgogi is a popular korean meat dish. It literally translates to "fire meat" – it is marinated slices of beef grilled on a barbecue or on a stove-top griddle. It is also often stir-fried in a pan in home cooking.
If spicy is not your thing, or you don't like pork, you can order this Bulgogi Don instead of the Spicy pork I mentioned earlier.
This Don also contains all the various soups, veggie side dish and salads like the other Dons.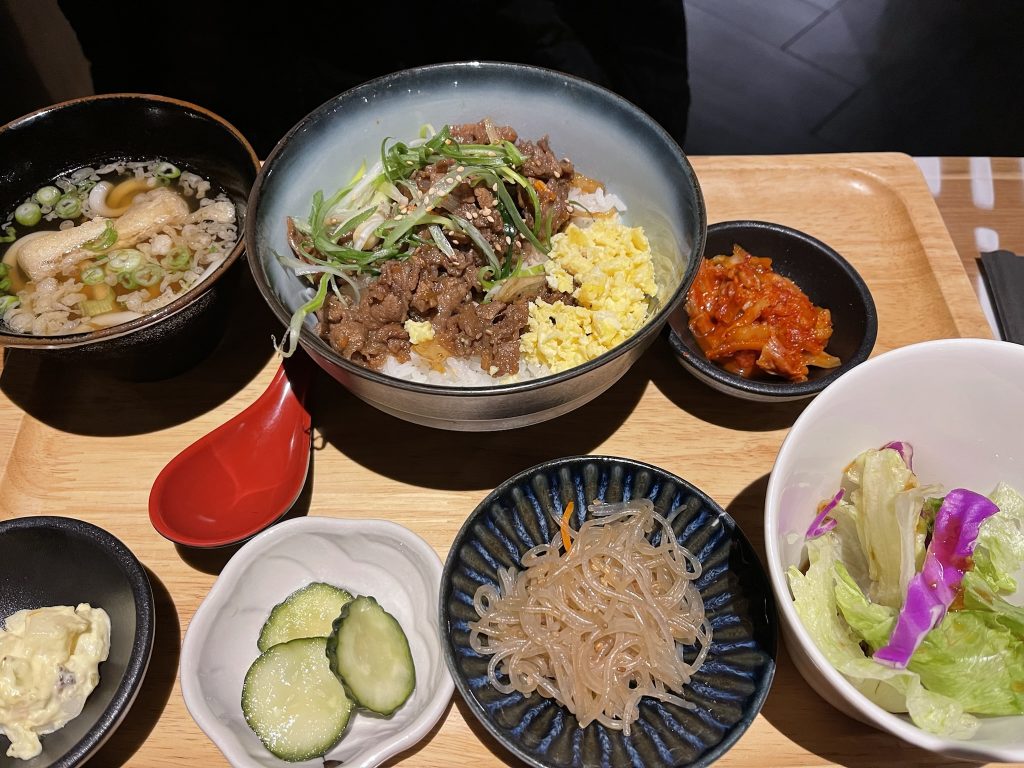 Sushi and Sashimi 스시& 사시미 | 6 pcs sushi and 7 pcs sashimi
Same as the previous two lunch menu items, the sushi and sashimi lunch comes with several veggie sides, soup and salad also.
You get a pretty good variety of sushi and sashimi with this lunch meal: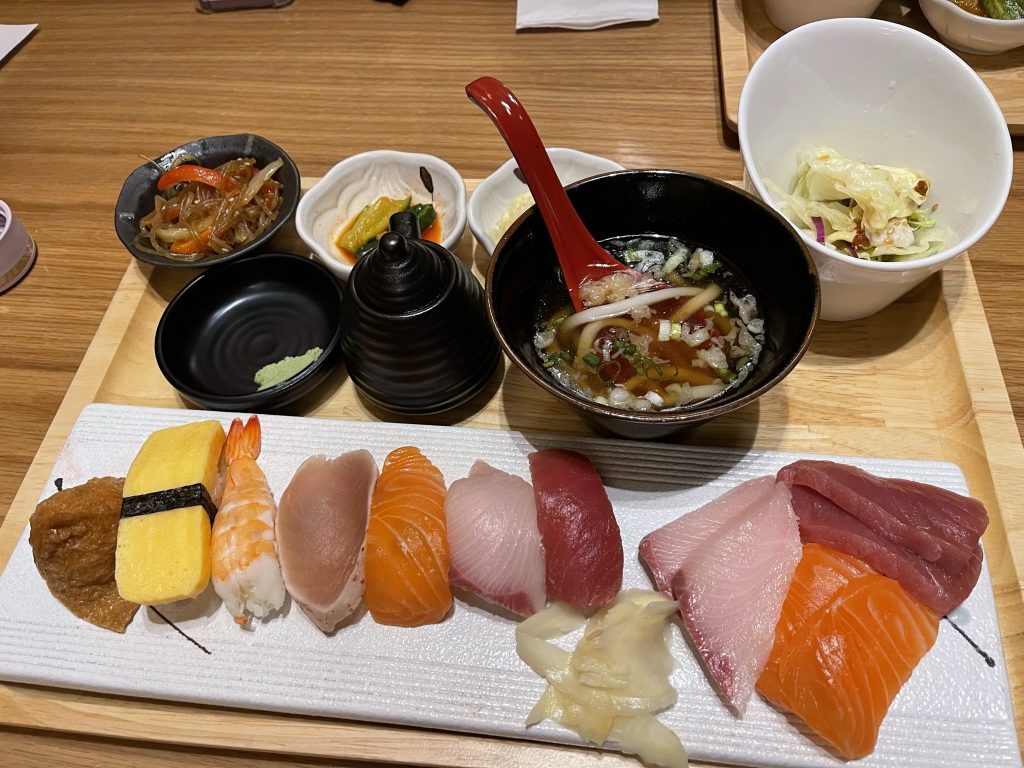 Tonkotsu Ramen 돈코츠라면 | Pork bone broth
If you love ramen, you may still want to go to a ramen bar/restaurant, but the ramen here was pretty great too. It doesn't come with soup as you already have a bunch of soup in your noodle soup, but it still comes with the salad, and other veggie side dish as pictured.
The two things I liked about this ramen was the noodles were pretty soft (not too hard – but this is more a personal preference thing), and I liked that the egg was perfectly cooked (not too well done).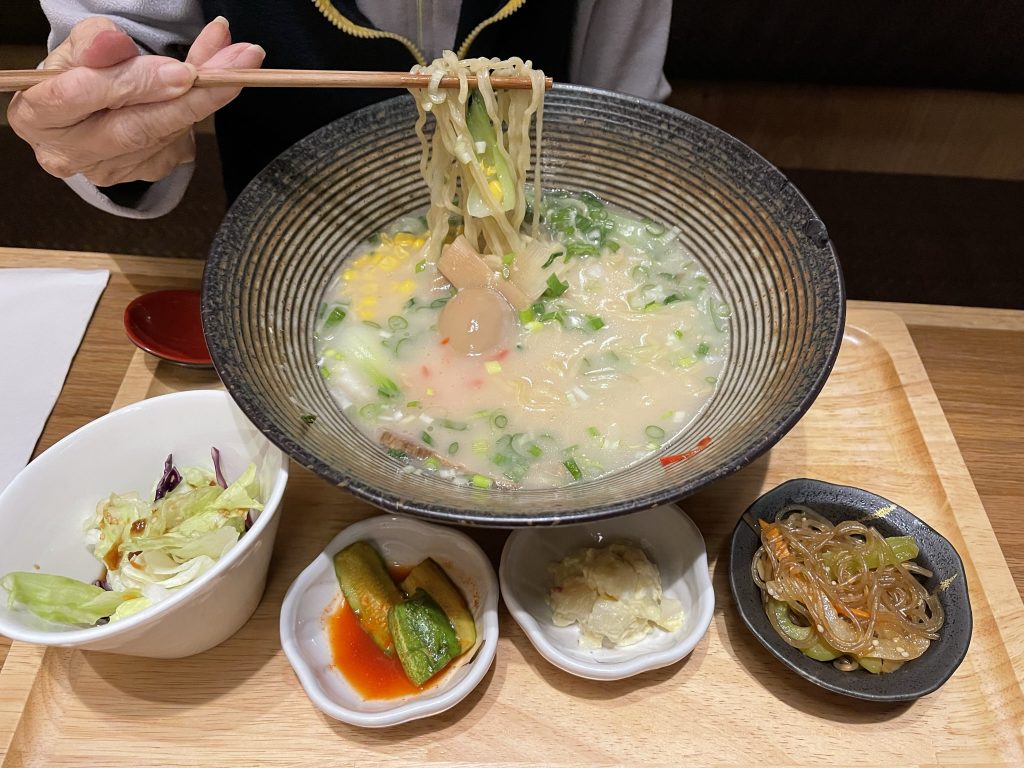 Dinner
Full dinner menu from Yuki Izakaya Korean Japanese Restaurant is here. I like when I can get a bunch of stuff with the thing I order off the Anjoo Set Menu. This basically has a bunch of stuff, varies depending on which one you pick.
Here's the 2-3 person one:
Sashimi 사시미
Yakitori 야끼토리
Takoyaki 타코야끼
Tempura 튀김
Nagasaki Jjamppong 나가사끼 짬뽕탕 – I'm very upset, but I didn't get any pictures of the Nagasaki Jjamppong 나가사끼 짬뽕탕, it always comes out at the very end and by then I'm in 100% shove all the food in my face mode, and forget to take pictures. You'll just have toake my word though that this is delicious – this soup is filled with seafood!
Fish Roe Rice 알밥 – Also very delicious, and for the same reason as the soup I did not get any pictures…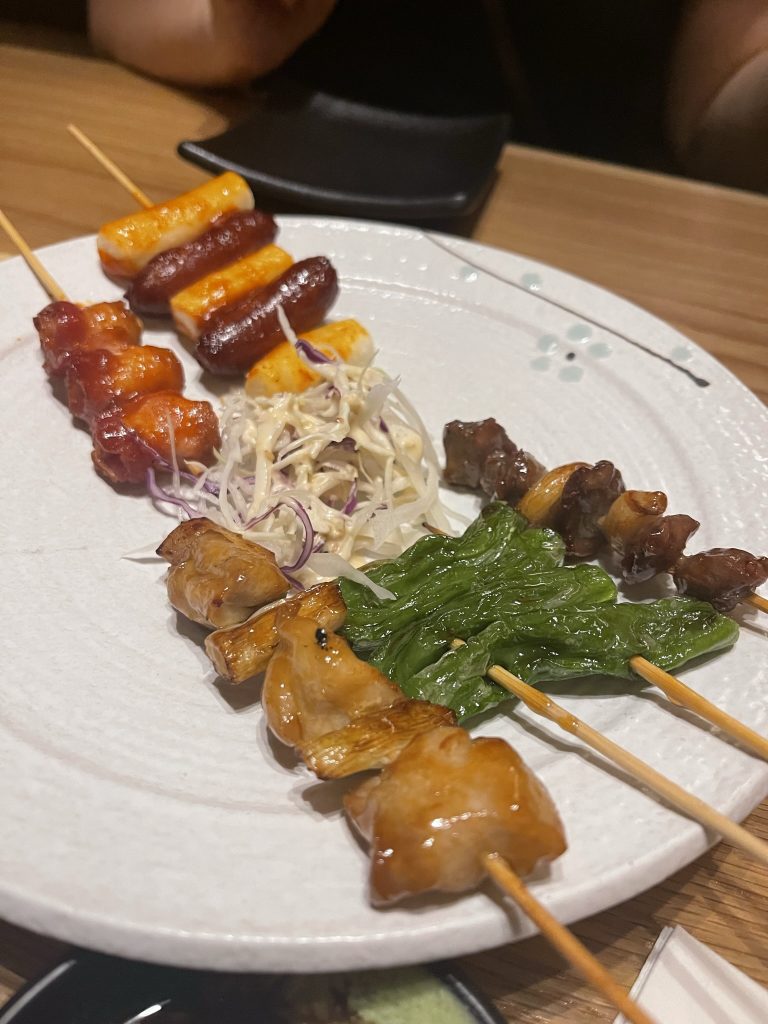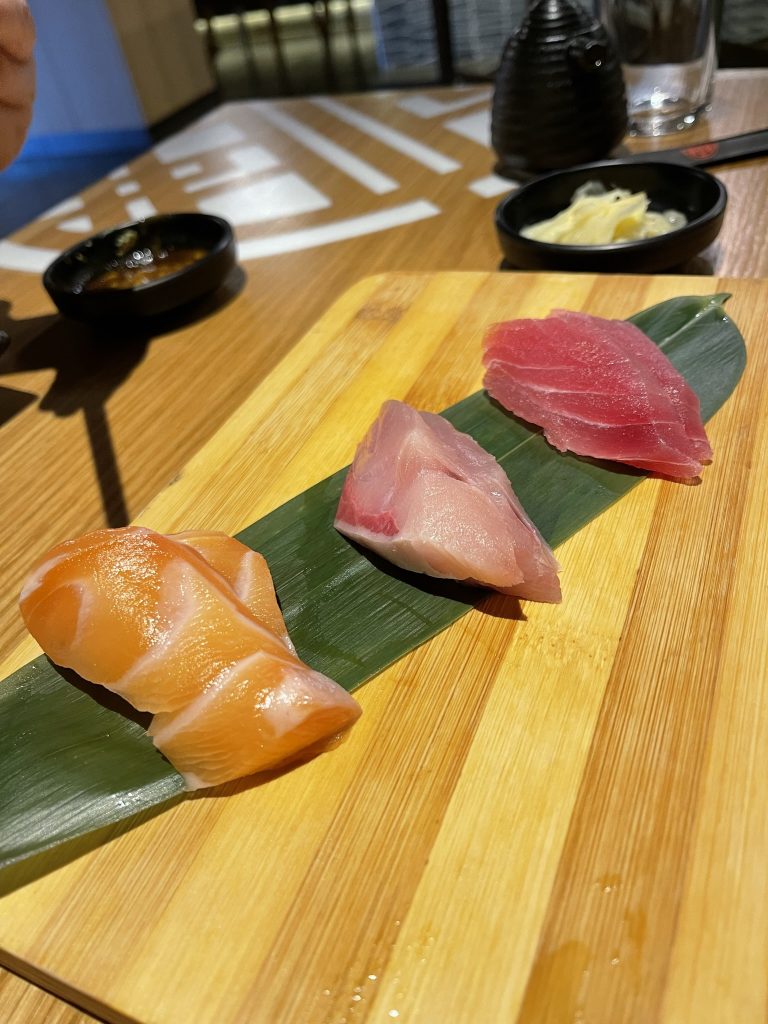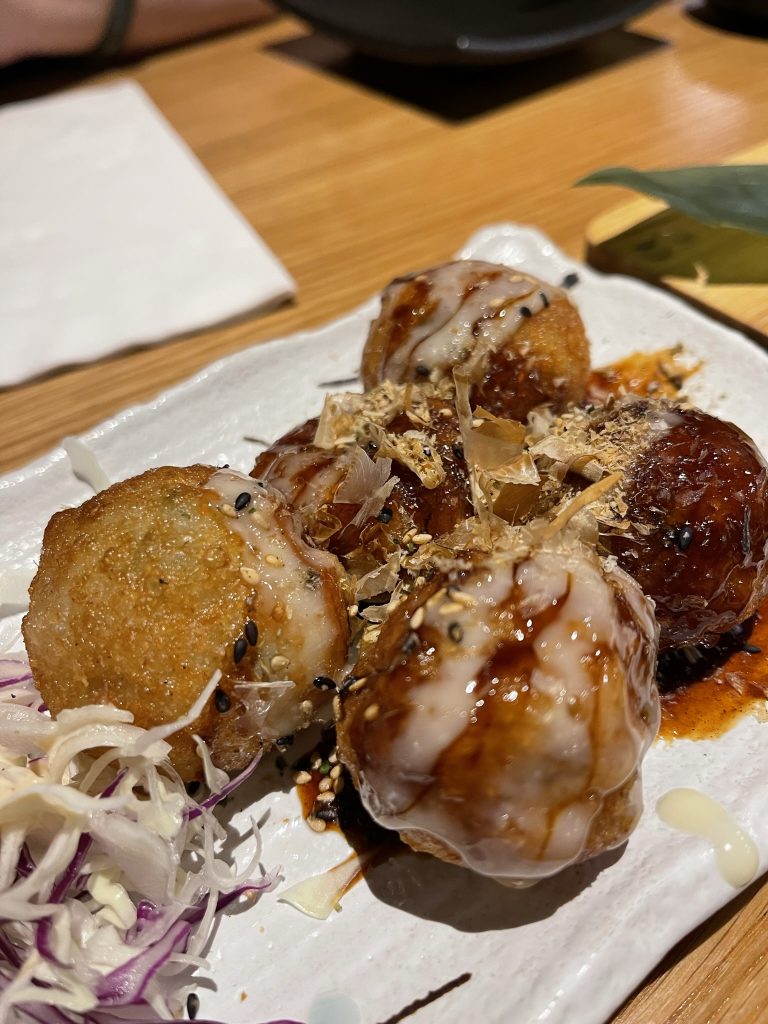 Have you ever been to Yuki Izakaya Korean Japanese Restaurant? If so what's your favorite thing to order – please share!